New Island, Westpoint Island, Falkland Islands - Wednesday, December 29, 2004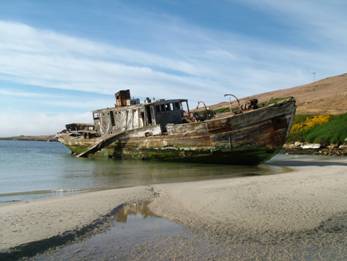 Long: 51° 43,5
Lat: 61° 14 W
Temp: 14 C°
Water Temp: 11 C°
Wind: 35 Knts
Wind Direction: N


Photo ci contre : Ship Wreck at New Island (by Colin Baird)

On this day in 1902, J. Gunnar Andersson, S. A. Duse, and Toralf Grunden otherwise known as the Hope Bay Trio of the Swedish South Polar Expedition were set ashore at Hope Bay.

As the westernmost settled island in the Falklands, New Island is a popular stop for ships on their way from Tierra del Fuego to Stanley. The island has a rich history associated with whaling and sealing including being host to a shore station and Admiralen, the first factory whaling ship to ply the Southern Ocean back in 1905. The New Island South Conservation Trust is restoring into a museum a stone hut originally built by a marooned American sealer. At the shore in front of the hut is the beached Canadian Navy minesweeper Protector. Built in Nova Scotia, Protector was brought south in a failed sealing enterprise. New Island is owned in two halves, however the respective owners, Tony Chater and Ian Strange, both run their properties as nature preserves. The island is host to large colonies of black-browed albatross, rockhopper penguins, and gentoo penguins as well as many other species including sea lions, upland geese, and the feisty striated caracaras (Johnny Rooks). After landing on the sandy beach at Settlement Harbour we made a level 1.5-kilometre walk to a combination breeding colony of rockhopper penguins, imperial cormorants, and black-browed albatross. Some sharp-eyed observers saw non-indigenous rabbits scurrying across the path. The colony offered a spectacular vista of soaring albatross and squawking, bounding penguins. Ian and Tony both came down to the beach to greet everyone with typical Falklands hospitality.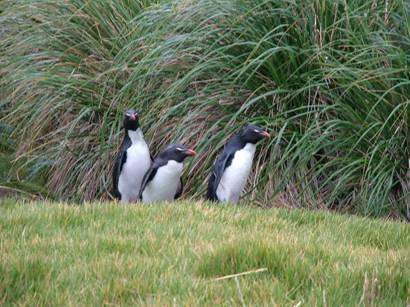 Photo ci contre : Rockhopper Penguins at Westpoint Island (by Colin Baird)

After lunch we anchored our Little Red Ship at Westpoint Island. It is debatable whether the main attraction here is the panoramic promontory of Devil's Nose with its extensive mixed colony of black-browed albatross and rockhopper penguins or the hospitality of the Napier family as their tiny dining room fills with visitors. We landed in a protected bay on a pier designed to tackle any tide. From there, the hike Devil's Nose is nearly 2.5 kilometres but seems much shorter somehow on the return journey. The Napiers happily offered Land Rover rides for those not wanting to walk. The ride was a bit bumpy and lasted about ten minutes. Devil's Nose is one of the more dramatic destinations in the Falklands; overlooking the sea and surrounded by cliffs, it is home to several thousand majestic albatross and several hundred rough and tumble rockhoppers. One can never appreciate just how staggeringly large an albatross' wingspan is until it has landed near you and folded its wings. We can never appreciate just how hardy penguins are until you've seen one hop up a cliff to reach its home. Unfortunately, rain dampened our enjoyment of the nose and many moistened and sodden travelers found themselves sipping tea in the comfort of the Napier's dining room. (This is a proper cup of tea brewed in a pot and served in a teacup and saucer - the Union Jack flies proudly outside after all.) The very first cruise vessel to come to the Falklands stopped here in 1968. The Napiers naturally invited everyone in for tea back then and it would be unthinkable to give up the tradition now even though the groups can number 800. Many of us had close personal experiences with the fearless striated caracaras that inhabit the island. They have been known to fly off with mitts and hats left unattended. The striated caracara, known locally as Johnny Rook, is arguably the toughest raptor in the world; they have been seen trying to tear the tails of cows.


Photo ci contre : "The Little Red Ship", Explorer anchored at West Point Island.(by Colin Baird)

Westpoint Island has been in Roddy and Lilly Napier's family since its first settlement in 1879. Choosing to leave their island home as little as possible, Roddy and Lilly embody a dying breed of rugged and self-sufficient 'Kelpers'.



Programme de la Journée - planning of the day
Recit précédent - Recit suivant