Drake Passage / Point Wild, Elephant Island - Saturday, January 1, 2005


Long: 60° 04,1 S
Lat: 55°12,6 W
Temp: 1,5 C°
Water Temp: 1,5 C°
Wind: 15 Knts
Wind Direction: W


Photo ci contre : Zodiac Cruise (by Colin Baird)

The Antarctic Convergence is the where the warmer waters of the north meet the colder, denser, less saline waters of the south. As the colder water sinks beneath the warmer, an up-welling occurs that brings nutrients to the surface. Found between 40ºS and 60ºS, the convergence is an ever-changing frontier marked by a sudden alteration in water temperature over the course of a few miles. Antarctic water runs between one and a half to three degrees centigrade colder than Sub-Antarctic water. It is the biological limit of the Antarctic ecosystem and anywhere south of the convergence is known as the Antarctic Ocean. While there is often a low fog in the area and an increase in wildlife, other than using a thermometer, there is no way to know when you are crossing it; the seas do not get rougher and the water colour does not change. South of the convergence we find the unique Antarctic food web and enormous amounts of krill, which is a staple food of the birds, and marine mammals that come to feed in the summer months. There are many unique species of sea life here, such as fishes with "antifreeze" for blood, which could not survive north of the convergence. Likewise, sharks, dolphins and a range of northern species wouldn't last long once they'd swum into Antarctic waters.

Also known as the Polar Front, the convergence is a function of the Antarctic Circumpolar Current. The waters of Antarctica circle the continent in the world's biggest ocean current at an estimated rate of 150 million cubic metres per second - that's equivalent to around four Gulf Streams or 1,000 Amazon Rivers. As the densest water along the bottom moves north, it has tremendous impact on global weather systems. Once carried far into the Atlantic and Pacific Oceans, the polar water has a cooling effect on tropical and temperate waters and is important to the oceans' balance. Several countries are currently participating in the World Ocean Current Experiment that monitors measures ocean current patterns in an attempt to better understand and predict climate change.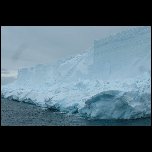 The mists around the ship in the early morning indicated that we might be in the vicinity of the Antarctic Convergence. The ship's thermometers confirmed this as the sea temperature dropped a few degrees. The air became noticeably chillier and drier and somehow sweeter smelling; we were now officially in Antarctica. The first item on the morning programme wasn't scheduled until 1100 - could this have something to with the general Happy Hangover feeling around the ship? Ian continued his narrative history with a lecture about some of the characters associated with the Weddell Sea and Antarctic Sound area. A whale sighting interrupted his lecture; this time fin whales off the port side. Ian was left alone in the lecture hall to muse if he would be able to get people out of a whale lecture to look at history.

After an early dinner, we made an extended Zodiac cruise around Point Wild on Elephant Island. A name steeped in legend, Elephant Island is an icon for Antarcticans the way Cape Horn is for mariners. This imposing and desolate island was home to 22 marooned members of Sir Ernest Shackleton's fabled 1914 Imperial Trans-Antarctic Expedition for four and a half months while they awaited rescue. Led by one of Antarctica's greatest unsung heroes John Robert Francis (known as Frank) Wild, the men barely survived living in horrible conditions beneath two overturned lifeboats. Named for Frank, Point Wild was originally known as Cape Wild and "Cape Bloody Wild" by the men stranded there. Point Wild is home to a small colony of hardy chinstraps and a single bronze bust incongruously watching over them. The bust is of Captain Luis Pardo master of the Chilean Navy ship Yelcho that eventually rescued Shackleton's men. Pardo's was no mean feat; taking the underpowered Yelcho without permission he risked his command, his rank, and his very life on a mission where three other craft had failed. Chile is naturally proud of their role in the rescue and the bust was placed here by a Chilean expedition. There are Chilean bases in the Antarctic Peninsula named for both Piloto Pardo and the Yelcho. Due to notoriously bad weather and the exposed nature of the island, landings are unfortunately rare. Our Zodiac cruise was however, was anything but unfortunate. A lone king penguin was spotted among the chinstrap penguins nesting around the bust of Señor Pardo, a solitary fur seal was seen snoring on shore, Weddell seals were lounging on the rocks, and a leopard seal was seen having a late night snack of penguin. Other highlights included a glorious grounded berg and a quiet little cove with nesting pintado petrels and their chicks.



Programme de la Journée - planning of the day



Recit précédent - Recit suivant